Activities
At Duck Point Resort
| | |
| --- | --- |
| At Duck Point Resort, we have everything you need to make your vacation enjoyable. We have many activities or each member of the family, including: | |
Nearby Activities
The Northwoods are full of wonderful one of a kind attractions and activities. Staying at Duck Point Resort puts all of these activities within a short drive:


Golf Courses
Water Ski Shows
Scenic Parks
Beaches
Picnic Areas
Bicycling
Cross Country Skiing
Shopping and Restaurants
More Information
Here are some links to nearby activities

Upcoming Events in the Tomahawk Area
No matter the time of year, there is always something happening just down the road from the Duck Point Resort.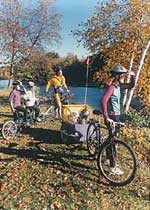 The Hiawatha Trail was opened for public use in the Summer of 1990. It was built and is operated by Lincoln County. Funding for the trail was from the County, State, and City of Tomahawk as well as the Rails to Trails Committee, fishing and snowmobile clubs.
It follows the abandoned Milwaukee Road railroad bed and goes north from Tomahawk to the Lincoln County line near Lake Nokomis, approximately 6.6 miles. Eventually it will join with the Bearskin State Park Trail that comes south from Minocqua on the same rail bed.

The Bearskin State Park Trail consists of 18 miles of abandoned railroad grade. It stretches between Minocqua and County Highway K in Oneida County, with plans to connect with the Lincoln County Hiawatha Trail.
Free water ski shows are put on by the Kwahamot Water Ski Club.
Given to the City of Tomahawk by its founder William H. Bradley, this wonderful park features water side hiking trails, picnic facilities, boat landing, fishing opportunities, and cross country skiing during the winter months.

Wisconsin's legacy from the glaciers and melt water streams of the Ice Age is a landscape of great diversity and beauty The State s many lakes and ponds, forested hills and ridges, and gently rolling farmlands remind us of the glaciers visit and beckon us to come, explore, and enjoy!
Tomahawk Speedway boasts a 1/4 Mile Paved Oval track and plenty of racing excitement for the whole family. Located 2 1/2 Miles North of Tomahawk, Wis. on Cty Hwy A/Bus 51 North.
There are over 200 miles of cross county ski trails waiting to be enjoyed within a short drive of the Duck Point Resort.
You can enjoy the cool Northwoods breezes on a large number of golf courses all of which are less then an hours drive from the Duck Point Resort.